Live Symphony Performance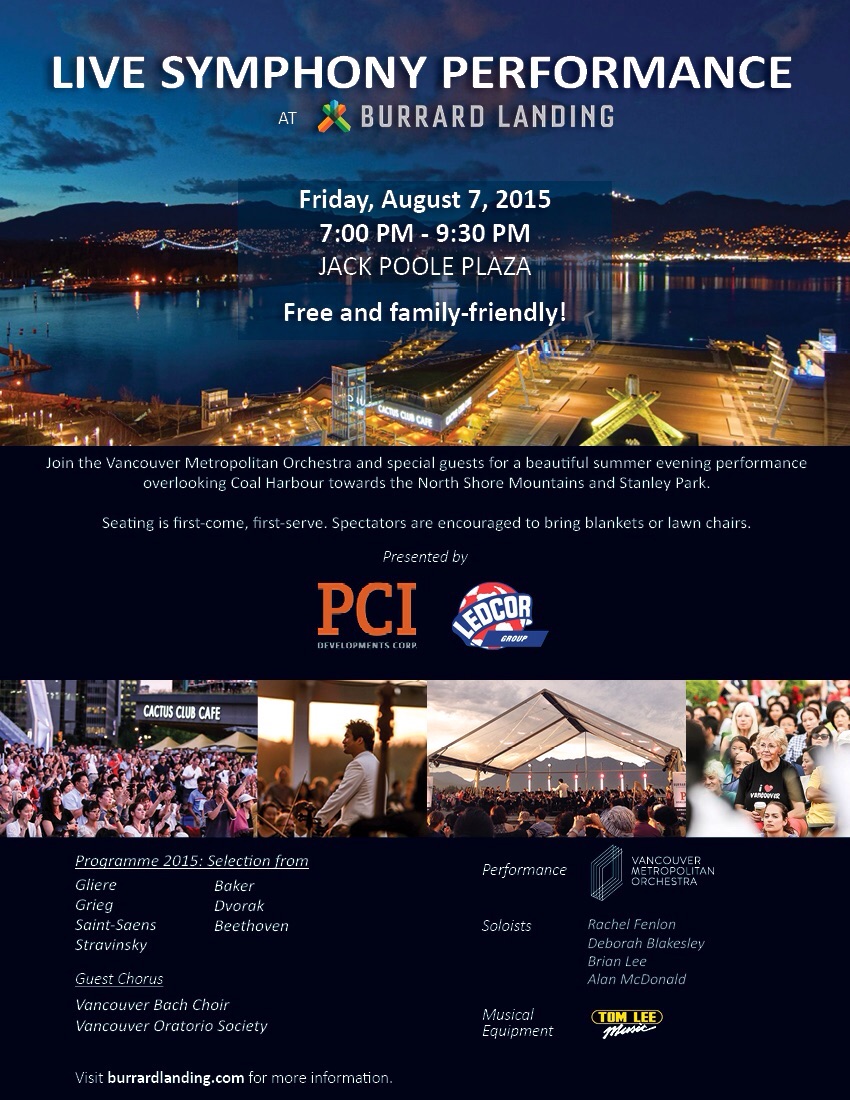 Venue: Jack Poole Plaza – 1055 Canada Place Vancouver, BC
Time: 7:00pm – 9:30pm
This is a FREE Concert, and seating is first come, first serve. Audience members are encouraged to bring lawn chairs or blankets for comfort.
The VMO's Summer Season begins with a very special free outdoor concert right in the heart of Coal Harbour downtown! With the beautiful scenery of the ocean and mountains, the VMO will be performing popular works that will make the evening an unforgettable one. The VMO is pleased and thankful to be partnering with PCI Developments in this wonderful collaboration.
Conductor: Ken Hsieh
Programme:
Glinka: Russlan and Ludmilla Overture
Grieg: Peer Gynt Suite No.1
Saint-Saëns: Danse Macabre
Stravinsky: 1919 Firebird Suite Selections
Baker: Chanson Joyeuse
Dvorak: Symphony No.9, 2nd Movement
Beethoven: Symphony No.9, Finale (Ode to Joy)
Featuring:
Vancouver Bach Choir
Vancouver Oratorio Society
Soloists:
Rachel Fenlon (Soprano)
A native of Victoria, Rachel made an exciting hometown debut with Pacific Opera Victoria as Nannetta in the 2013 production of Verdi's Falstaff. She returns in 2014 for the role of Guenevere in Camelot in Concert
Deborah Blakesley (Mezzo Soprano)
Blakesley is technically classified as a mezzo-soprano, meaning she has the range to go upward or downward with seeming ease. Her voice is rich and powerful, but wherever she takes it, she makes it look easy. That richness isn't lost when she heads for the soprano stratosphere. Some mezzos get screechy in the upper registers, but not Blakesley.
Brian Lee (Tenor)
From biology labs to being Cinderella's Prince Charming, then to other roles on stage, this all-around singer has been described as a singer '…Possessed of a velvety tenor with a pleasing timbre…' Tenor Kwangmin Brian Lee has a Bachelor and Master's degrees in Opera Performance with University of British Columbia
Alan MacDonald (Baritone)
Halifax-born baritone Alan Macdonald has been praised by Opera Canada for his "wonderful timbre, diction and sonority." Highlights from the 2014-2015 season include Elvis Costello's The Juliet Letters with the Koerner Quartet, Beethoven's Symphony no 9 with the Vancouver Metropolitan Orchestra, Messiah with the Prince George Symphony and the creation of four roles in the world premiere of Shane Koyczan and Neil Weisensel's Stickboy with Vancouver Opera.
Generously Supported By:
PCI Developments
Ledcor Group
Instruments Supported By:
Tom Lee Music
For More Information:
http://burrardlanding.com/symphony-at-jpp