2017 VMO Clef Concerto Competition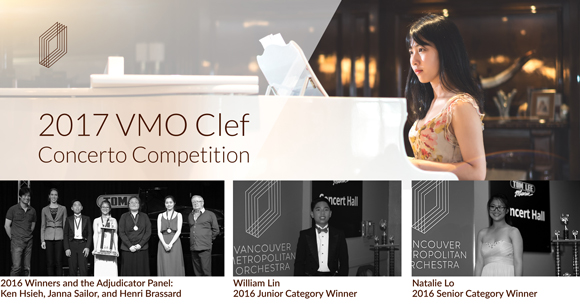 May 22 – 26, 2017 (Monday to Friday)
Venue: Tom Lee Music Vancouver
NEW Location 728 Granville Street, Vancouver, BC
(Granville & Georgia)
Application deadline: May 5, 2017 (Extended to May 12, apply today!)
How to apply?
1. Please fill out the ONLINE FORM
2. Make the payment online with your credit card
3. Once your application is approved, we will contact you with more details
Competition Details
This year, VMO will carry on Burnaby Clef Society's tradition to host VMO's 2nd annual Clef Concerto Competition. The Competition will take place over five days, from May 22 to 26 with two categories of players (A. 12 years & under and B. 13 years & up). The entrant must be of stated age as of May 22, 2017.
The winner of the first category (12 years & under) will be awarded an opportunity to be showcased at future VMO events. The winner from the second category (13 years & up) will be awarded an opportunity to perform with VMO at its Season Finale Concert in 2018. We encourage all those interested in participating, please submit your application as soon as possible. Application deadline is May 5, 2017 (Extended to May 12).
For more info, please contact clef@vmocanada.com