Hajun Chang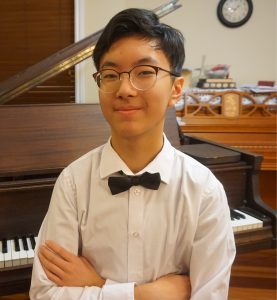 Thirteen-year-old Hajun Chang discovered his love for piano at the age of three. Studying under Dr. Sun Sung Kong for four years, Hajun has had the amazing privilege of enriching his musical talent and passion. 
Hajun has received many awards and recognition since 2014. Many great accomplishments include First Prize winner of the 2016 Pacific Youth Piano Festival (Age 9-11 Category), where he then performed at the Gala Concert in Richmond Gateway Theatre. He received further recognition, winning First place in the CYO (Coquitlam Youth Orchestra) Concerto Competition, which resulted in his performance of Mendelssohn Piano Concerto No.2 with the orchestra. He was then awarded the Second Prize winner in the following year at the 2017 Canadian Music Competition (Age 11 Category), performing in the Prize Winner Concert shortly after. Hajun continued to perform for numerous concerts and even had the chance to participate in the BC Children's Hospital Charity Recital, hosted by KL Piano Studio. In 2018, Hajun was awarded the Second Prize and Silver Medal, Division 2, in the Steinway and Sons International Piano Competition. In the following months, he participated as a finalist in the Pacific Rim International Music Festival (North American Division), selected from hundreds of video submissions. 
Hajun continues to show his talent through his performances, and is working hard to improve his musicality and technique everyday. He enjoys reading, playing basketball, and traveling with his family.