Nicole Linaksita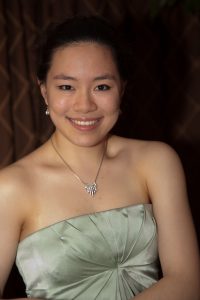 Nicole Linaksita has performed solo and chamber concerts in Canada, USA and Europe. A participant in national and international competitions, she was selected to participate as one of 30 finalists in the CMC Stepping Stone Competition, placing among the top six in 2016. Recently, she won First Prize and the Audience Choice prize in the 2017 BC Bösendorfer Piano Competition. In addition, she was awarded a silver medal and a certificate for the best performance of a Canadian work for the piano artists division of the 2017 Vancouver International Music Competition. She was the BC piano representative for the 2018 Canadian National Music Festival and won third prize in the piano class. In December 2017, Nicole performed Moritz Moszkowski's Piano Concerto in E Major, Op. 59 in the Music Without Borders Society Concerto Gala with the Vancouver Philharmonic Orchestra. She performed with the Vancouver Academy of Music Orchestra in October 2018 at the Orpheum Theatre.
Nicole has frequently performed the works of contemporary composers. More recently, she played with the Music on Main All-Star Band for their Vancouver premiere of Steve Reich's "Music for 18 Musicians". In 2017, she was invited to be a featured artist for Emerge on Main, a programme hosted by Music on Main that supports rising musicians.
Nicole completed undergraduate studies in Piano Performance and Computer Science at the University of British Columbia, studying under Corey Hamm and Ryo Yanagitani, receiving the Director's Graduation Prize for Outstanding Piano Performance.