Vancouver
Metropolitan Orchestra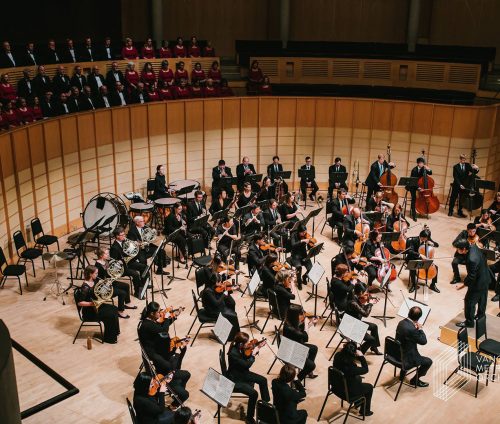 About the VMO
Mission
The VMO's mission is threefold:
to inspire the musical and personal development of talented post-graduate musicians by providing unparalleled opportunities and mentorship;
to advocate for continual development and involvement in classical music as a mentor to young musicians;
to enrich the cultural foundation of our community through thoughtful, live performances
History
The Vancouver Metropolitan Orchestra is a non-profit society founded by Maestro Kenneth Hsieh. Since its inception in 2003, the Vancouver Metropolitan Orchestra (VMO) has been dedicated to providing superior orchestral mentorship for talented music graduates, helping them move from student to professional.
The VMO is dedicated to the artistic, personal and professional development of outstanding young musicians. We strongly believe that by providing such development opportunities, we are preparing our young musicians for leadership opportunities in orchestras and ensembles around the world, and empowering them to enrich the cultural life of their communities.
Our Dedication
The VMO is dedicated to the artistic, personal and professional development of outstanding young musicians. We create opportunities for talented young musicians to perform with the mentorship of seasoned professionals in front of live audiences. 
These are opportunities these young gifted musicians may not have otherwise had. We see the untapped potential in people caught between being professional musicians and music students. Many of these young musicians need a stepping-stone to embark on their professional musical career, and that's what we do.
Development Opportunities
The VMO provides:
mentorship of experienced professional musicians via live, public performances,
instructional seminars, classes and workshops led by experts within the music profession.
In the past eleven years, the VMO has helped launch the careers of many young talents who are now performing with renowned musical organizations around the world. As a testimonial to the success of the VMO, many of our alumni have continued their involvement with the organization by becoming a VMO mentor.
Our Programme
We perform music from the Baroque, Classical, and Romantic periods. We also perform contemporary and popular music in special concerts with opera companies, choirs, and traditional folk music groups. Our choice of repertoire focuses on music that is commonly asked for in Orchestra Auditions.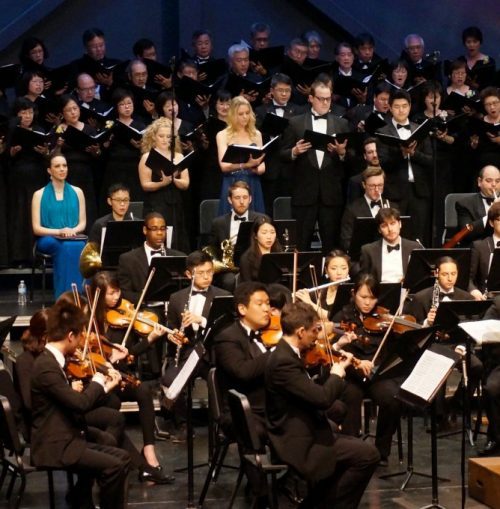 Our Music Director
Award-winning Canadian Conductor, Kenneth Hsieh has emerged as one of the top rising young conductors to watch. The 2018-2019 season marks his 16th year as Music Director of the Vancouver Metropolitan Orchestra in addition to his many international guest conducting engagements. He has maintained a close relation with the Hyogo Performing Arts Center Orchestra where he has conducted their subscription, masterworks, and educational series. Highlights in this upcoming season includes: Ken taking the Kyushu Symphony Orchestra on tour, debut and appearances at the Shanghai Philharmonic Orchestra and the Shanghai Music Festival, the Nutcracker ballet production with the Goh Ballet and Victoria Symphony Orchestra, as well as return engagement to conduct the Japan Century Orchestra in Beethoven Symphony 9 at The Symphony Hall in Osaka, produced by Asahi Broadcasting Corporation and sponsored by Air Canada.

Born in Edmonton, Canada, Ken is the winner of several prizes including the Heinz Unger Award in Conducting and the Jean-Marie Beaudet Award in Orchestral Conducting. At the age of 22, Ken was appointed Assistant Conductor of the Pacific Music Festival (founded by Leonard Bernstein) where he worked with the Sapporo Symphony Orchestra and the Pacific Music Festival Orchestra as well as serving as an assistant and collaborator to Bernard Haitink, Edo De Waart, Krzysztof Penderecki, Seikyo Kim, Yutaka Sado and Ken Takaseki. The following year, Ken became the youngest ever Conductor-in-residence/Assistant Conductor with the Vancouver Symphony Orchestra and the National Academy Orchestra where from 2004-2007; he conducted over 100 performances from the Main Subscription series to lighter and pops series concerts with the Vancouver Symphony Orchestra.
He has collaborated with a wide range of distinguished artists such as Cyprien Katsaris, Mayuko Kamio, Tamaki Kawakubo, Janina Fialkowska, Ryu Goto, Anastasia Chebetorova, Holly Cole, Natalie McMaster, Ikuyo Nakamichi, Kosuke Atari, Three Celtic Tenors, and John Pizzarelli. Several of his concerts have been recorded live and broadcasted on CBC Radio across Canada. His concerts have also been broadcasted on television in Taiwan, Japan, Canada, and the USA. Ken made his France debut with the historical l'orchestre Lamoureux, performing at their subscription concert at the Theatre Champs-Elysee in Paris, France.
Remaining dedicated to promoting young artists and education; Ken works often with Youth orchestras including the Vancouver Youth Symphony Orchestra, Surrey Youth Orchestra, BCMEA Honor Orchestra, as well as the Japan Junior Philharmonic Orchestra as their summer session conductor in a series of concerts that included a benefit concert for the United Nations (World Food Program) in the Tokyo Metropolitan Art Space. He is a guest professor and conductor with the National Tainan University and has worked with the Geidai Philharmonia, preparing them for the Martha Argerich Festival in Beppu, which was later conducted by Antonio Pappano and Seikyo Kim.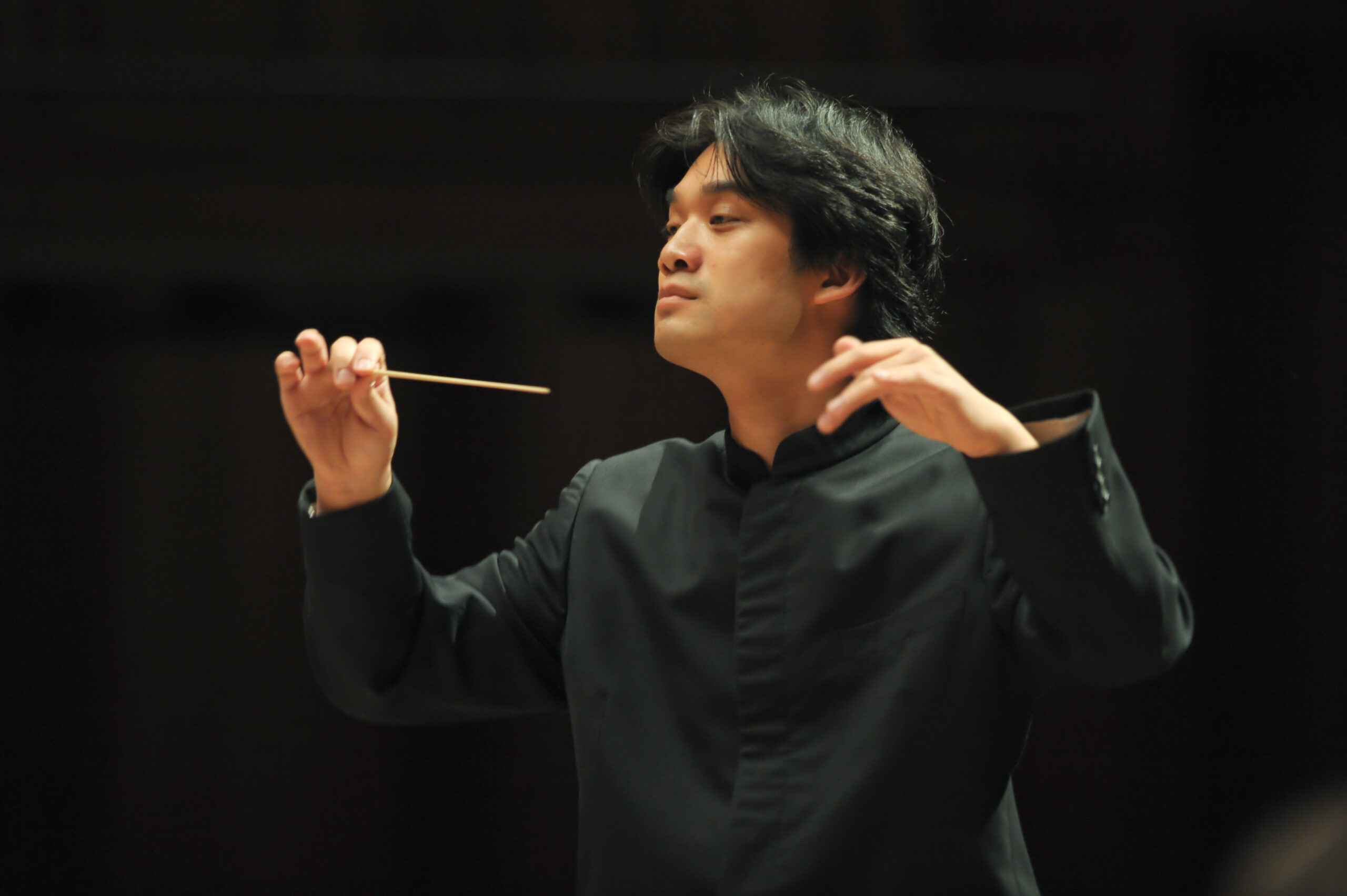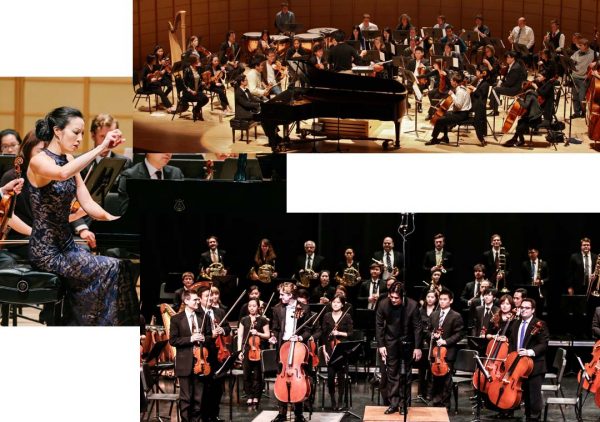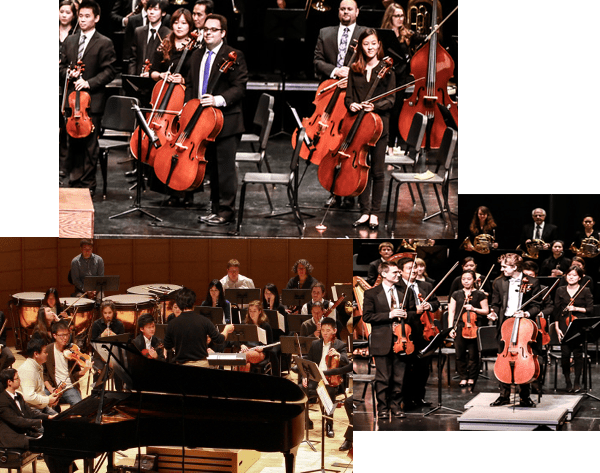 The VMO Orchestra
VIOLIN
Akira Nagai, concertmaster mentor
Adrian Chui, principal mentor
Dominic Woo, concertmaster
Larisa Lebeda, mentor
Christine Lin, personnel manager
Carol Hur
Emma Bazinet
Erin Dorfet
Esther Hwang
Hyunnah Cho
Jeremy Ferland
Julia Lim
Lucy Chang
Molly MacKinnon
Rick Dorfet
Yun Jung
VIOLA
Emily Zwamborn
Isabelle Roland
Jennifer Ho
Manti Poon
On You Lee
Steven Lin
CELLO
Brian Mix
Luke Kim
Minjee Yoon
Rebecca Wenham
Shin-Jung Nam
Zhuojun Bian
BASS
Kenneth Friedman, principal mentor
Jesse Lu
Lenna Wong
Michael Vaughan
FLUTE
Heather Beaty
Laura Vanek
Samantha Fu
Susan Lee
OBOE
Geronimo Mendoza
Fleur Sweetman
Emily Yu
CLARINET
Shawn Earle
Sydney Hsin-Yi Chang
Tiffany Tsai
BASSOON
Ingrid Chiang, principal mentor
Iraj Tamadon-Nejad
Sarah Ellis
Tristan Lambert
HORN
Richard Mingus, principal mentor 
Dawn Haylett
Ian Beatson
Keon Briney
Nick Anderson
TRUMPET
Daniel Kocurek
Mark D'Angelo
TIMPANI
TROMBONE
Greg Passmore
Justin Chiang
Jim Hopson
Administration
The Vancouver Metropolitan Orchestra is led by staff comprised of members of the community who are dedicated to the uncompromising pursuit of artistic excellence and the development of an outstanding professional development program.
Steven Lin
Artistic Administrative Manager & Personnel Manager
Peter Johnson
Artistic Administrator
Katie Ho, Kemuel Wong
Librarian
Board of Directors
The Vancouver Metropolitan Orchestra is led by a Board of Directors comprised of members of the community who are dedicated to the uncompromising pursuit of artistic excellence and the development of an outstanding professional development program.
2018-19 Board of Directors
Steve Coombe – President
Dean Hsieh – Vice President
Van Doren Chan – Secretary
Wells Hsu – Treasurer
Directors
Cindy Kuo
Daniel Chiu
Graham Blank
Henry Liao
Kailin Che – Legal
Marie Cahill
Paul Kwan
Pearl Hsieh
Sophie Yi
Advisors
Kim Leclercq
Tristin Lee
Members at Large
Grace Ao
Evan Chen