Music Director, Principal Conductor
English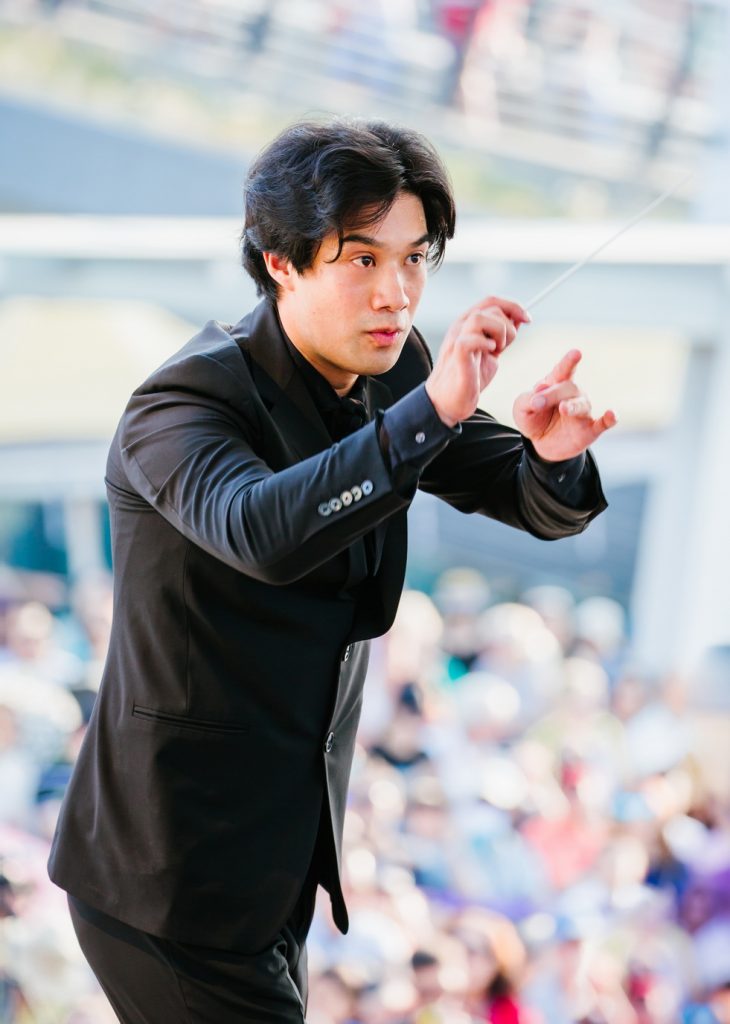 Hailed for his charming, passionate, and compelling podium presence, award-winning conductor Kenneth Hsieh has garnered widespread praise for his vibrant performances, making him one of the most exciting and versatile conductors on the international stage. The 2022-2023 Season marks his 20th year as Music Director of the Vancouver Metropolitan Orchestra, in addition to many international guest conducting engagements which recently include debuts with Boston Ballet, Edmonton Symphony Orchestra, Shanghai Philharmonic Orchestra, and Sendai Philharmonic Orchestra. He is also now in his 12th year of regular summer performances with Toronto Festival Orchestra at HarbourFront Center.
Born in Edmonton, Canada, Ken is the winner of prestigious conducting prizes including the Heinz Unger Award in Conducting and the Jean-Marie Beaudet Award in Orchestral Conducting. His conducting teachers and coaches include: Kurt Masur, Kazuyoshi Akiyama, Morihiro Okabe, Yuji Yuasa, Ronald Zollman, and Jorma Panula. An alumnus of both the Royal Conservatory of Music and the University of British Columbia, Ken completed his postgraduate studies in orchestral conducting in Japan at the prestigious Toho Gakuen School of Music and Senzoku College of Music on full scholarship. Ken also took further studies in Austria with Yuji Yuasa, and masterclasses with Seiji Ozawa and Pinchas Zukermann. 
At only 22, Ken was appointed Assistant Conductor of the Pacific Music Festival (founded by Leonard Bernstein) where he worked with the Sapporo Symphony Orchestra and the Pacific Music Festival Orchestra, as well as serving as an assistant and collaborator to: Bernard Haitink, Edo De Waart, Krzysztof Penderecki, Seikyo Kim, Yutaka Sado, Ken Takaseki, and Wen-Pin Chien. The following year, he became Assistant Conductor at the National Academy Orchestra and the youngest Conductor-in-Residence/Assistant Conductor with the Vancouver Symphony Orchestra (2004-2007), where he conducted over 100 performances from the main subscription series to lighter and pop series concerts.
During regular guest engagements with both the Hyogo Performing Arts Center Orchestra and Sichuan Philharmonic Orchestra, Ken has conducted their subscription, masterworks, chamber, and educational series. Comfortable conducting in several genres, he enjoys orchestral, opera, ballet, film, and pop music. Since 2011, and succeeding Yutaka Sado, Ken has led the Nippon Century Orchestra (formerly Osaka Century Orchestra) in their annual Beethoven Ninth Symphony series at The Symphony Hall in Osaka, produced by Asahi Broadcasting Corporation and sponsored by Air Canada.
Canadian orchestra appearances include: Montreal, Toronto, Hamilton, Edmonton, Regina, Saskatoon, London, Vancouver, and Victoria. International engagements have been with: Boston Ballet, l'Orchestre Lamroureux, Tokyo Ballet (NBS), Tokyo Symphony Orchestra, Hiroshima Symphony Orchestra, Kyoto Symphony Orchestra, New Japan Philharmonic Orchestra, Sendai Philharmonic Orchestra, Orchestra Ensemble Kanazawa, Vancouver Opera Orchestra, Victoria Symphony Orchestra, Osaka Century Orchestra, Finnish Radio Symphony Orchestra, Gunma Symphony Orchestra, Suzhou Symphony Orchestra, Shanghai Philharmonic, Sichuan Philharmonic, Hyogo Performing Arts Centre Orchestra, CBC Radio Orchestra, National Arts Centre Orchestra, National Taiwan Symphony Orchestra, Orchestra London, Siena Wind Orchestra, and Evergreen Symphony Orchestra. In addition, Ken has made two recordings with the Orchestra Ensemble Kanazawa on the Avex Label, and toured with both the Kyushu Symphony Orchestra and the Siena Wind Orchestra on several occasions.
Passionately dedicated to music education and promoting young talent, Ken works with youth and training orchestras such as: Shanghai City Youth Orchestra, Fukuoka Student Symphony Orchestra, Vancouver Youth Symphony Orchestra, Surrey Youth Orchestra, BCMEA Honour Orchestra, and Saskatchewan Honour Orchestra. A benefit concert for the United Nations World Food Program, leading the Japan Junior Philharmonic Orchestra in the Tokyo Metropolitan Art Space, was a particular highlight. He has been a guest professor and conductor with the National Tainan University, and prepared the Geidai Philharmonia (National University of Arts in Tokyo for the Martha Argerich Festival in Beppu, which was later conducted by Antonio Pappano and Seikyo Kim. 
Ken has engaged in a multitude of diverse collaborations with distinguished artists such as Cyprien Katsaris, Janina Fialkowska, Ryu Goto to Holly Cole, Natalie McMaster, and John Pizzarelli. Several of his concerts have been recorded live and aired on CBC Radio across Canada. His concerts have also been broadcast on television in Taiwan, Japan, and the USA. His European debut was with the historical l'Orchestre Lamoureux, performing at their subscription concert at the Theatre Champs-Elysee in Paris, France.
Among other honours and recognitions, Maestro Ken Hsieh has been awarded the Order of Merit for Outstanding Young Leaders from the Lions Club, named one of the Top 100 Most Influential Asian-Canadians by the Vancouver Sun, Top 10 Most Beautiful People by TV Week Magazine (with Michael Buble), and most recently Top 33 most influential leaders by Sing Tao News and Top 10 Elite Chinese-Canadians. Ken also served as the 2019 Co-Chair of the Liver Foundation of Canada Gala where he led and indeed exceeded the fundraising record in aid of this important cause.
To learn more about Maestro Ken Hsieh, Please visit: www.kenhsieh.com
中文