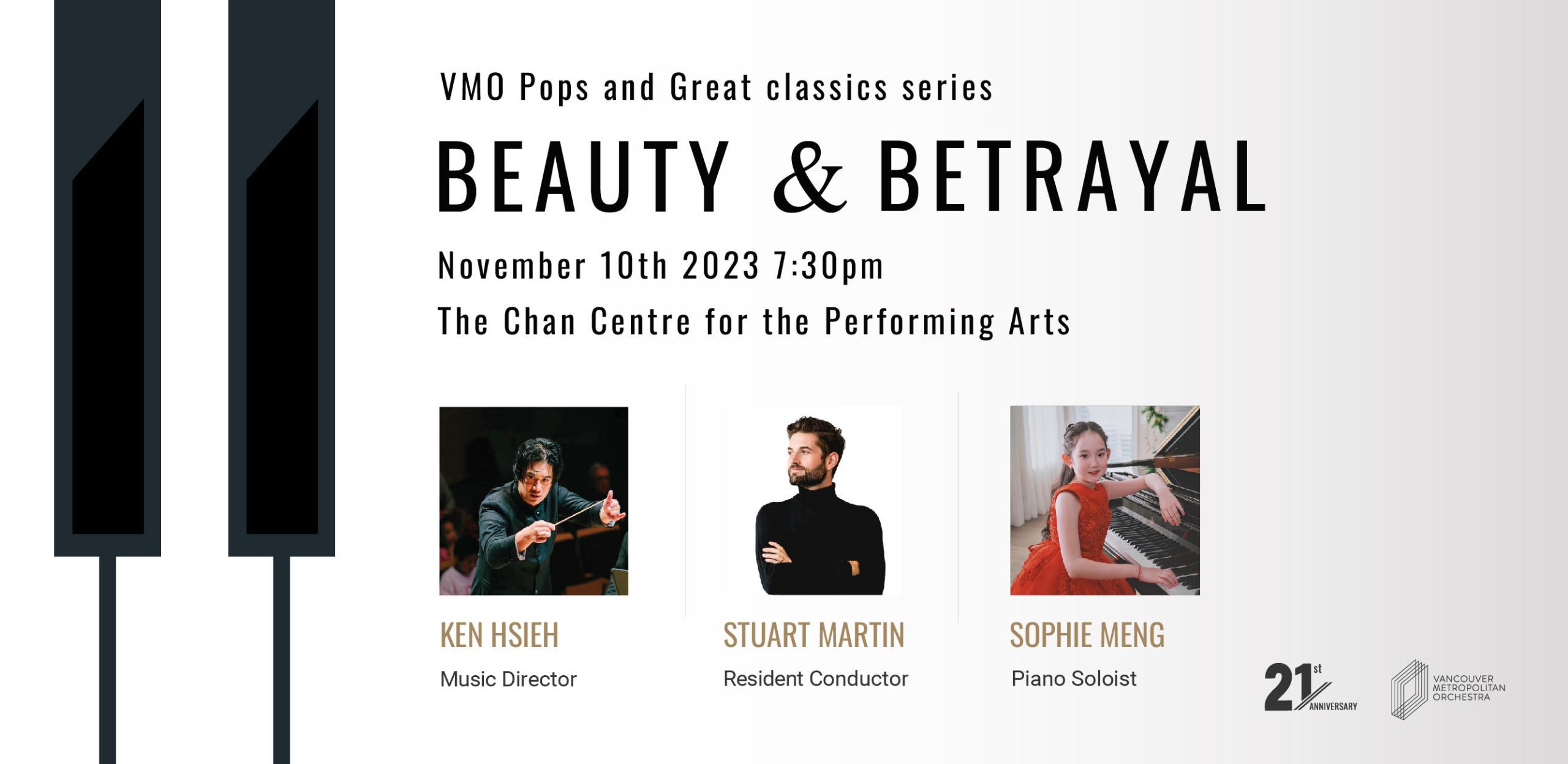 VANCOUVER METROPOLITAN ORCHESTRA
Pops and Great Classic Series
Sibelius: Finlandia
John Williams – Flying Theme from ET
Elgar – Nimrod
Tchaikovsky – Sleeping Beauty Suite
Tchaikovsky – Francesca di Remini
Resident Conductor: Stuart Martin
Piano soloist: Sophie Meng

Heartfelt thanks to all music lovers who joined us on September 9, 2023 at the Orpheum Theatre to celebrate the Vancouver Metropolitan Orchestra's 21st Anniversary Season Opening Concert. The challenging programme of Sibelius's Symphony No. 2 along with the magnificent interpretation of Grieg's Piano Concerto with sensational pianist David Fung- were a triumph and the VMO was thrilled to perform it before such a supportive crowd. Indeed, it has been our loyal audiences these past two decades which have given our artists the encouragement to continue on this musical journey.
On Nov 10, 2023, the VMO is proud to present its Classical and Pops concert taking place at the UBC Chan Centre for the Performing Arts at 7:30pm. This lighter and popular series is designed to have music for everyone of all ages. This will also mark the debut of our new resident conductor, Stuart Martin, who will share the podium with Maestro Ken Hsieh.
Joining the VMO for her official VMO Debut is young pianist, Sophie Meng, who will be performing the Mozart's Piano Concerto No. 23. At only 11 years old, Sophie has recently returned from Italy performing Mozart's Piano Concerto No. 20 in d minor to great success. After several masterclasses and auditions for the VMO, Maestro Ken Hsieh and the team feels that this would be an excellent opportunity to present one of Vancouver's rising young pianist.
Included in the programme will also include: Sibelius: Finlandia, Flying Theme from ET by John Williams, Elgar's Nimrod, Tchaikovsky's Sleeping Beauty Suite, as well as Tchaikovsky's Francesca di Remini.  We gladly invite the public to come and join us in this great evening of pops and classics!