Kaoru Kondo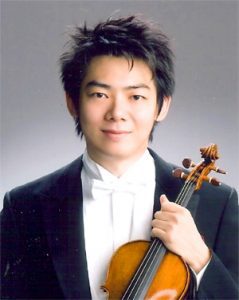 Kaoru Kondo graduating from Tokyo University of Arts received Acanthus Music Award for the best students. Later he continued to study at Graduate school of Tokyo University of Arts receiving master's degree. He performed with various orchestras as a concertmaster while he was still student. He also participated in the summer camp of the Vienna Music Academy having master classes with Alban Berg Quartet, Amadeus Quartet, Hagen Quartet developing  higher level of his skills and methods for chamber music.
Kondo has performed with many orchestras as a guest concertmaster including Tokyo Philharmonic, Tokyo Symphony, Yomiuri Nippon Symphony, Kanagawa Philharmonic, Sendai Philharmonic, Osaka Philharmonic, Kansai Philharmonic, Osaka Symphony and others. He has performed chamber music in Italy, Germany, Austria, Spain, China and Taiwan where he also appeared as a soloist.
In recent years he has worked in various fields and activities as a concertmaster of Tokyo Scholars Ensemble and as a music advisor of "The World of Toru Takemitsu". He has wide range of repertoire from baroque to contemporary. He was invited to Lanciano Music Festival in Italy by the chief-cellist of L'Orchestra dell'Accademia Nazionale di Santa Cecilia, Luigi Piovano. From 2004 to 2010 he served as the 1st violin Vorspieler of Tokyo Philharmonic Orchestra. Since June 2011 he has been a concertmaster of The Kyushu Symphony Orchestra.
Kaoru Kondo was born in Nagoya in family of musical tradition whose grandfather Tomio Kondo was the first concertmaster of Tokyo Philharmonic Orchestra.