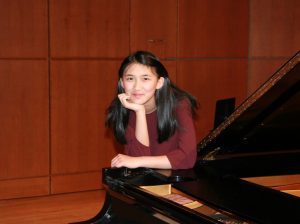 Athena Deng was born in January, 2003 in Guangzhou China. She began her piano studies at the age of four with the Korean-American pianist Helen Sim. In 2011, she moved with her family to Vancouver where she continued her studies with Lorraine Ambrose at the Vancouver Academy of Music. Since 2014 her teachers have been Kenneth Broadway and Ralph Markham.
In 2015, Athena won the first concerto prize, the second solo prize and the best performance of the John Bayless at the 20th Virginia Waring International Piano Competition in Palm Desert, US. She was awarded US $7,000 and the performance with the Yakima Symphony Orchestra in Washington.
At age 11, Athena made her debut with the Vancouver Metropolitan Orchestra performing the Prokofiev Piano Concerto No.3 after winning the Burnaby Clef Competition. That performance earned her the award for Most Promising Pianist. In November of 2014, Athena not only won the Richmond Festival Grand Gala Prize but was also one of the winners of the Concerto Challenge which earned her
a performance with the Richmond Orchestra. In the spring of 2015, she performed the Mendelssohn G minor Piano Concerto with the same orchestra under the direction of Maestro Ken Hsieh at the Chan Centre for the Performing Arts at the University of British Columbia. In addition, she has been awarded numerous top prizes in many other competitions including the Hong Kong International Piano Open Competition, the Vancouver Kiwanis Music Festival and the Canadian Music Competition.
Athena also enjoys sketching, reading and playing violin/piano duos with her younger sister. Now she is a Grade 7 student at the Eagle Mountain Middle School in Port Moody, BC, Canada.