Violin Soloist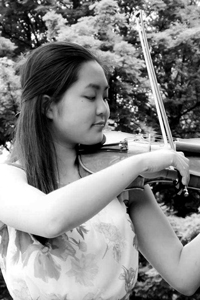 Alison Kim, born in 1999, began her studies on the violin at age four and since 2013 she has been studying with Prof. Taras Gabora.
She has received accolades for her performances such as 2nd prize in the Canadian National Music Competition, winner of the VAMSO Orpheum Theatre Concerto Competition, 2nd runner-up in the VMO Clef Concerto Competition, and winner of the VYSO concerto competition along with numerous top prizes from the Kiwanis, Fraser Valley, and Richmond Music Festivals. In 2015, she also had the pleasure of playing in Poland through the Bacewicz International Violin Competition. Alison had her solo debut with orchestra in 2010 with the Vancouver Academy Intermediate Orchestra and she also played with the VYSO in 2015. She is also the two-time winner of the Seymour and Janet Vineberg Memorial scholarship. Alison has had the honour of taking part in the 18th, 19th, and 20th editions of the Casalmaggiore International Music Festival in Italy where she played works such as Bartok violin concerto no. 2, Mendelssohn violin concerto, Shostakovich violin sonata, and Bach's Partita no.1 to name only a few.
In the 62nd annual Friends of Chamber Competition, Alison was a member of the winning violin quartet in the senior category, which also won the audience prize, as well as a member of the 2nd prize string trio in the same competition.
As an orchestral musician, she has been the concertmistress of the VYSO from 2014-2016 and she was also previously the concertmistress of the VAMSO in the 2013-2014 season.
Alison has performed in masterclasses for Martin Chalifour, Andrew Dawes, Dale Barltrop, Mark Fewer, Nai Yuan Hu, Anne Shih, and Oleg Pokhanovski.