Bogdan Dulu
With a knack for leaping musical hurdles, Bogdan Dulu is steadily establishing himself as one of Canada's noteworthy musicians of the newer generation, combining mastery of the piano with the ability to educate and entertain with his engaging speaking style, intelligence, compassion, and humour.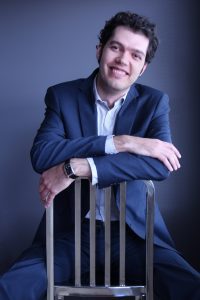 The 2017/2018 season brought Dulu's Vancouver Symphony Orchestra debut under music director, Bramwell Tovey, who asked Dulu to step in on a 20-day notice and present the world premiere of Shalimar Variations, Tovey's latest work for piano and orchestra. The previous concert season found him above the Arctic Circle, touring the Northwest Territories with British actor, Tayo Aluko, in a theatrical play depicting the life of American singer and civil rights movement activist, Paul Robeson. Later on, his High-Voltage Piano/Piano Haute-Voltige program highlighting piano music of Marc-André Hamelin reached audiences across Eastern Canada with a marathon tour of 19 solo recitals in 7 weeks, presented by Jeunesses Musicales Canada. In the 2015/2016 season, Dulu toured across the Maritime provinces of Canada as a Debut Atlantic artist. He has performed in Europe, North America, Asia, and Africa. He is equally at home as a soloist as well as chamber musician, collaborative pianist, coach, or public speaker, with appearances on NHK Tokyo, YLE Finnish Broadcasting Corporation, Romanian Radio Corporation, KING FM Seattle, and planned recording projects with the CBC.
Dulu was born and raised in Romania, where he received a rigorous foundation in the fundamentals of music. After intense private piano studies with Ana Pitiş during his undergraduate training in Bucharest, Dulu continued his graduate studies in New York City with Irina Morozova at Mannes School of Music (Master of Music) and later in Vancouver as Jane Coop's last graduate student at the University of British Columbia (Doctor of Musical Arts). In masterclasses, he has played for Yefim Bronfman, Richard Goode, and Stephen Hough, and worked with soprano Dawn Upshaw at the Banff Centre.
Dulu is the first pianist to have written a doctoral dissertation on Marc-André Hamelin's piano Études, researched under the personal guidance of the Canadian composer-pianist. It was during his doctoral studies that he developed a keen interest in the music of this legendary artist, with whom he worked closely during the final stages of the degree.
Bogdan Dulu is on faculty at the Vancouver Symphony Orchestra School of Music and the Vancouver Academy of Music | S.K. Lee College, where he teaches piano and chamber music. He makes his home in ncouver, where he proudly (yet humbly) becomes a little more Canadian by the day.