Piano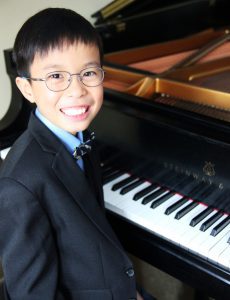 In May 2015, Austin was awarded First place in several classes at the British Columbia Conservatory of Music Festival. As a result, he was also awarded the BCCM Scholarship for the Highest Average Mark in the grade 8 category. Austin was given further recognition when he was awarded several top prizes at the Vancouver Kiwanis Music Festival in 2016. He was awarded the Most Outstanding Performance Pianist in the Intermediate category. Austin was subsequently chosen to represent the VKMF at the 2016 Performing Arts Provincial Festival held in Fort St. John, where he was awarded First Place in the Junior A Piano category. He was then selected to perform in the events finale showcase – BC's Best Concert.
In November of 2016, Austin was the winner of the Concerto Challenge 11 & under category at the Richmond Music Festival. This was a great honour to make his orchestral debut with the Richmond Orchestra at Rising Stars 2017. In May of 2017, Austin won the Junior group in the 2017 Vancouver Metropolitan Orchestra Concerto Competition. In the same year of September, he received a Bronze medal of Vancouver International Music Competition.
2018 is starting out with great honour as he gets to perform with Vancouver Metropolitan Orchestra. Austin hopes he can bring his love for music to everybody and continued success with plenty of new experiences.
Austin Ng will be performing at our 2018 Finale Concert.