Piano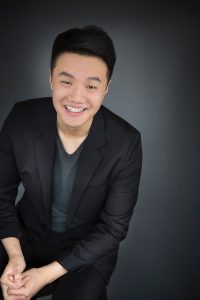 Vancouver-based pianist, Barry Tan is enjoying a career as an active collaborator, performer, and teacher. He studied at McGill University, Schulich School of Music, under full scholarship, and also at the Victoria Conservatory of Music, and the University of Victoria.
Barry has competed in numerous noteworthy competitions: he won the University of Victoria Concerto Competition and the Quebec Provincial Music Festival, placed at the Canadian National Music Festival and the Canadian Music Competition Finals, a semi-finalist in the Concours de musique Hélène-Roberge in Quebec, and competed at the Thousand Islands International Piano Competition in Cape Vincent, New York. Most recently, he was a prizewinner at the Vancouver Women's Music Society Scholarship Competition, and won the Vancouver Metropolitan Orchestra Concerto Competition.
As a soloist and chamber musician, Barry has performed concerti with the University of Victoria Symphony Orchestra, Vancouver Philharmonic Orchestra; chamber appearances include, performing Schoenberg's Pierrot Lunaire as part of the Université du Québec à Montréal la troisième édition du Festival CODA, Schubert's Trout Quintet at the National Arts Centre, Young Artist Program and various concerts throughout BC, including a collaborative recital at Kwantlen University. This season, highlight performances include a solo recital through the Vancouver Women's Music Society, and performing Rachmaninoff's Piano Concerto no. 2, with the Vancouver Metropolitan Orchestra.
Barry has attended various solo and chamber music festivals, including: Montecito International Music Festival in California, the Young Artist Program at the National Arts Centre in Ottawa, the Victoria Conservatory Summer Music Academy, and the Mozarteum Academy in Salzburg, Austria, in 2013 & 2016. He recently completed a Fall Music Residency at the Banff Arts Centre, where he had a chance to collaborate, perform, and work on recording projects. Barry is grateful to be funded by: the UVic President and McGill Schulich Scholarships; the Vancouver Koerner Arts, Montreal Jewish, Johann Strauss Foundations; and the Vancouver Women's Music and McGill Austrian Societies.
In the fall of 2018, Barry will be commencing studies, and also working as a Teaching Assistant at the University of Southern California, Thornton School of Music in Los Angeles.
Barry Tan will be performing at our 2018 Finale Concert.