Piano Soloist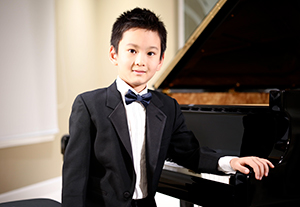 10-year-old Ryan Wang started playing piano at the age of 4 and has been a student of Professor Lee Kum Sing at the Vancouver Academy of Music since September 2014. Ryan has won top honors and scholarships in numerous Canadian and international piano competitions and has performed at Carnegie Hall (New York), on the Ellen DeGeneres Show, for the CBC, at Yundi Li's 2014 New Year's Concert in Beijing. Ryan was invited to perform as part of the cultural component of Canada's participation in the APEC Summit in Beijing, 2014, and at a private concert at the Canadian Prime Minister's home. In 2017, Ryan is the winner of an Emerging Artist Grant from Vancouver Academy of Music.
In July 2015, 2016 and 2017, Ryan participated in Casalmaggiore International Music Festival in Italy where he gave solo recitals and performed piano concertos with the festival orchestra, and he got the First Place of the Gabora Prize of the festival. In October 2015, Ryan gave concerts in Japan and China, including a solo recital at Nankai University for the grand opening of Jialing Academy built for the Poet Chia-ying Yeh. In March 2016, Ryan accompanied Professor Lee who was invited to give a series of lectures and master classes in China, including Hong Kong, Shenzhen, Xiamen, Shanghai, and Beijing. Ryan performed solo recitals in these cities. In November 2016, Ryan gave solo recitals in Xi'an Music Conservatory and China Central Conservatory of Music in Beijing. In March 2017, Ryan spent his spring school holidays doing a concert tour of Southern China, including Hong Kong where he recorded for Radio Hong Kong, Guangzhou, and Xiamen where he performed Beethoven Concerto No.1 with the Xiamen Philharmonic. In June 2017, Ryan was invited to perform with Singapore Symphony Orchestra to celebrate Chung Ling High School 100 years anniversary. In January 2018, Ryan was invited to give a solo recital in Toronto, and also to play Beethoven's piano concerto No. 2 with the Toronto Festival Orchestra for the New Year's concert.
Ryan has also participated in many fundraising concerts to support the Sarah McLachlan School of Music, Vancouver hospitals and social programs, and elementary schools in China in need of funding for their music programs.
Ryan is a big fan of sports. He loves swimming, skiing, badminton, and hockey. Ryan also enjoys reading and traveling. He is presently a Grade 5 student at Collingwood School in West Vancouver, Canada.
Photo credit: Iris Wang
Ryan Wang will be performing at our 2018 Spring Concert