Pianist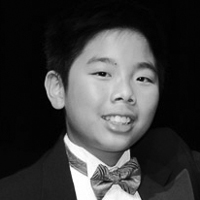 Grand Prize Winner of 2017 Theodor Leschetisky Concerto Competition. The competition finals were held on April 22nd, 2017 in New York. Out of 6 semi-finalists and 3 finalists, William was selected to perform with orchestra. William was awarded first place overall and on April 25th, he performed the complete Piano Concerto No.1 in G minor by Mendelssohn with the Camerata New York Orchestra under the direction of Conductor Richard Owen. William subsequently received a cheque for a $1,000.00 scholarship.
Twelve year-old William Lin started piano at the age of 6. In 2013, he began his studies with Donna Fishwick and completed his Grade 9 RCM piano examination with first class honours with distinction. Currently he is preparing for the Grade 10 Royal Conservatory of Music examination, while also building a wealth of repertoire at the ARCT Solo Diploma level.
William started competing locally in the Festival on the Lake, Burnaby, in 2014 and has since garnered numerous awards, trophies, and scholarships from local, national, and international competitions for his outstanding performances. He received second place at the Canadian Music Competition in 2015 and was subsequently awarded third place at the "Fifth Chinese Children Small Golden Bell Music Competition", after which he was invited to play in Guangzhou, China. In January 2016, William was invited to play in Carnegie Hall as a Vancouver representative in the Crescendo International Music Competition, where he was the Grand Prize winner. In May 2016, he won First Place in the Richmond Delta Youth Orchestra Concerto Competition and achieved very high marks of 98. William was also awarded first place in the 2016 Vancouver Metropolitan Orchestra Concerto Competition. He will be performing with the VMO on June 2nd, 2017.
This past year, William has been a guest artist with major symphony orchestras such as the Richmond Delta Youth Orchestra, the Richmond Orchestra, the West Coast Symphony Orchestra, and Orchestra di Alicante – in Perugia, Italy. Locally, he performed at the Chan Centre for the Performing Arts, the Vancouver Convention Centre, Tom Lee Music Concert Hall, Anvil Centre, Gateway Theatre, and Vancouver's Queen Elizabeth Playhouse. Internationally, his performance venues include Bosendorfer Recital Hall in Vienna, Austria, Hellbrunn Palace in Salzburg, Austria, Teatro Pavone in Perugia, Italy, and Carnegie Hall in New York.
William has also attended master classes with Sasha Starcevich, Wayne Weng, and Alexander Karpeyev. He is the piano accompanist for the Richmond Orchestra and also plays violin as a member of the Intermediate String Division of the Richmond Delta Youth Orchestra. As a member of the Donna Fishwick Piano Ensemble, William has performed a wealth of repertoire arranged for piano duet, duo, and quartet.
William Lin will be performing at our 2017 Season Finale Concert, for more info or buy tickets online (Eventbrite): visit here